Education and Research Center "Heiliges Meer"
The LWL-Museum of Natural History maintains an education and research center on the edge of the "Heiliges Meer" nature reserve. There is an exhibition and plenty of nature to see. The center has existed for over 60 years.
The large nature reserve invites you to take walks on circular trails. On the walks you have the opportunity to observe natural ecosystems such as lakes, ponds and forests, as well as elements of historical cultural landscape, such as heaths and wet grassland.
Along the way you can see the special features of the area: the numerous, small and large so-called sinkhole lakes. Near the station there is a shelter that can be used for a rest.
A unique area
The Heiliges Meer nature reserve is a unique area with special habitats and rich biodiversity. The LWL-Museum of Natural History has operated its education and research center there since 1927. Due to the lively research activity and the numerous courses on biodiversity, the area is one of the best-studied nature reserves in Germany.
The Heiliges Meer Nature Reserve is a unique area with a wide variety of habitats and high biodiversity. Explore the native biodiversity via a walking trail or as part of field trips and courses.
Education and Research Center
The LWL Museum of Natural History runs an education and research center in the middle of the nature reserve "Heiliges Meer - Heupen". Courses lasting one or more days as well as excursions are offered here throughout the year.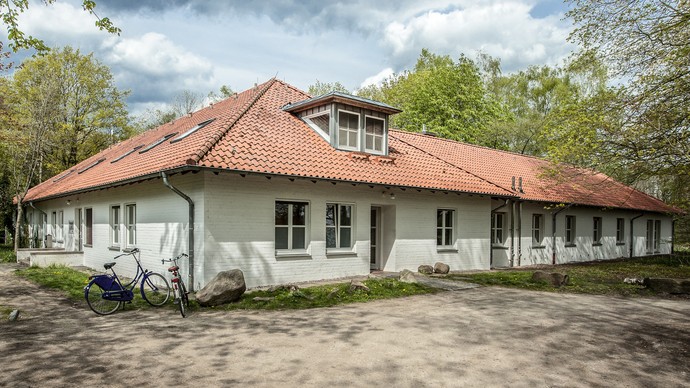 Since the 19th century, the Holy Sea and the surrounding area have been the focus of science. Biodiversity, hydrology and much more are intensively studied at the center and through cooperative associations.
Address
Address
LWL Museum of Natural History
Education and Research Center Heiliges Meer
Bergstrasse 1 | 49509 Recke (Westphalia)
Contact
Phone: +49.5453.9966-0
E-Mail: heiliges-meer@lwl.org
Arrival by car
The center is located on the L 504 from Ibbenbüren to Hopsten.
Arrival by bus and train from Ibbenbüren train station
From the station forecourt, take the R27 in the direction of Hopsten.
On Saturday take the taxi bus T27. The taxi bus only runs on Saturdays after prior notification by telephone. Please order the taxi bus at least 60 minutes before departure on +49.1803.014037.
Landkarte
Skip to content
Opening hours
The nature reserve is open all year round.
Accessibility
There are no paved paths in the nature reserve.
There are no steps, but some of the paths are difficult to walk due to the weather.
In the center, the exhibition room, the course rooms, the lounge and some other rooms can be reached at ground level.