Opening Hours
LWL-Museum of Natural History
Westphalian State Museum and Planetarium
Sentruper Str. 285 | D-48161 Münster (Westph.)
Opening Times: Tuesday-Sunday 9am-6pm
Phone +49.251.591-05 | Fax +49.251.591-6098
naturkundemuseum@lwl.org | planetarium@lwl.org
Tuesday - Sunday 9am - 6pm.
Holidays have the same program as Sundays.
Exception: December 24th - special program,
December 25th and 31st - closed!
 
---
Admissions
| | | | |
| --- | --- | --- | --- |
| Prices | Museum | Planetarium | Museum and Planetarium¹  |
| Adults | 7,50 € | 7,00 € | 13,00 € |
| Groups of 16 People and more    | 7,00 € | 6,50 € | 12,50 € |
| Children (6 – 17 years), school students | Free | 4,00 € | 4,00 € |
| Children (up to 5 years) | Free | 3,50 € | 3,50 € |
| Family Ticket3 | X | 17,00 € | 25,00 € |
| Concessions4 | 4,00 € | 4,00 € | 7,00 € |
|   |   |   |   |
Explanation of Prices

1) Admission for planetarium program

2) School students, who attend an educational program of the museum, a part of a guided tour, or attend a show of the planetarium.Two attendants have free entry.

3) Parents and single parents with their own children (Combi-Ticket for one planetarium show)

4) Recipients of lfd. support for living, college students, trainees, draftees, civilian servants, young adults taking a gap year to work as a volunteer in environmental projects, Disabled from 80% onwards, seriously disabled (when necessary - the accompaning person has free entry). ID necessary!

Generally free admission for members of the

ICOM (international council of museums)

German Council of Museums
---
Museum's card
Me&You/Family-LWL-Museum's card: 40,00 €
Single-LWL-Museum's card: 30,00 €
(For minors from 6 up to 17 years, school students as well as college students 10,00 €)

The LWL-Museum's card can be purchased in the LWL-Museum of Natural History . It only counts for the exhibitions of the Natural History Museum. Attendants of a planetarium show have to pay an extra admission.
---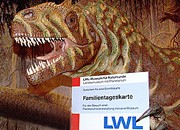 Gift Cards
Why not giving a museums's visit including a planetarium show as a present?

Gift cards for a single ticket, family tickets or annual season-tickets as well as futher information are available at the museum's information desk.

You can order gift cards by phone or mail:
Phone: +49.251.591-05
Mail: naturkundemuseum@lwl.org


We deliver your ordered gift cards via mail.
Have fun making this wonderful present, your Museum's team.
---
Taking pictures in the LWL-Museum of Natural History
In the LWL-Museum of Natural History taking pictures is allowed (restrictedly)! You may take picture but without flash and stand! So you don't disturb other visitors and protect the valuable objects of the exhibitions.

In the planetarium taking pictures is prohibited without exception!

You may use photos for private purposes, as well as for private websites and non-profit photo boards.
Please note: You may publish your pictures taken in the LWL-Museum of Natural History on your website. But please, only upload pictures with 72 dpi and minimal length so that they cannot be printed.
In addition to that, we ask you to make a reference of the origin of the photo. It would be nice if you could link them to our website: http://www.lwl-naturkundemuseum-muenster.de .

The commercial use of pictures taken in the LWL-Museum of Natural History is only allowed with restrictedly. In any case you need a permission beforehand. In some cases we might charge a fee! If you want to to sell the pictures or use them commercially we'll need the following information:
To whom are you selling the pictures and what are they used for? We also ask you to send as a copy of the picture(s).
Please contact us: naturkundemuseum@lwl.org, Subject: "Commercial use of photographs".